Congratulations! You are now on the waiting list, please check your inbox for our confirmation email!
DefineMe Fragrance
Ariel Disney Princess Parfum Travel Spray
Congratulations! You are now on the waiting list, please check your inbox for our confirmation email!
Introducing our NEW Ariel Travel Spray...
Ariel appears to have it all, yet deep inside she yearns for more. With a true sense of adventure and curiosity, she follows her heart and discovers a new world above the sea!
This scent is meant to evoke Ariel's sense of wanderlust, starting with a splash of citrusy neroli and bergamot, flowing into sweet floral notes of jasmine and lilac, then crashing with a beachy blend of tonka bean, coconut and driftwood. 🧜‍♀️🌊
Every DefineMe scent contains a little magic to inspire, empower and bring your inner goddess to life! 
Vegan and cruelty-free forever! Gluten free too! 
A Disney collaboration. 
DEFINEME DOLLAR PROGRAM
For every bottle we give $1 to scholarships to help educate young women in developing countries.
MADE WITH
Alcohol denat (organic sugarcane alcohol), cocos nucifera (coconut) oil, (DefineMe's own fragrance blend with natural and essential oils), eletiara cardamomum miniscula (cardamom) seed oil, jasminum officinale (jasmine) flower oil, citrus aurantium bergamia (bergamot) fruit oil, citrus lemon (lemon) peel oil. 
Fine mist applicator.  Refillable bottle. Refills coming in 2020. 
8 ml | .27 fl oz
Clean Fragrance
Vegan
Cruelty-Free
Gluten-Free
Made in the USA
Sustainability
Social Impact
Available to ship to addresses in USA + Canada.
You know that crushing feeling you get when you discover a brand or product you love has less-than above-board practices? Like, when you realize a fragrance you've fallen hard for actually has animal product ingredients or test on animals (yeah, that feeling!).
Part of our core mission at DefineMe Fragrance means you can rest easy knowing that you'll never (ever!) feel that way again. Our fragrances start with many questions: What's its purpose? What should it smell like? What should it be called?
But one thing that's always a given is that we never include animal products in our ingredients! Cruelty to animals...ahhh, no thank you!
If you want learn more you can check out our blog post here 
All items ordered from us can be returned for a refund within fourteen (14) days of purchase. All returns must include a copy of our invoice or packing list. Returned items must be unused. Shipping charges are non-refundable. (Exception: defective or mis-shipped merchandise will be replaced or fully refunded). We do not refund or exchange purchases made from other vendors, sale items, or BOGO offers. Read our full returns, privacy and labor policy here.
Customer Reviews
09/17/2020
Kairi F.

United States
I recommend this product
Aquatic Enchantment
I was nervous about my purchase. Since I hadn't even smelled the perfume before. When it arrived I was dazzled by the beauty of the bottle alone. I sprayed some on my wrist and was flooded with the elegant fragrance of the ocean breeze and it's many refreshing scents. My roommate describes it as one of the perfumes that stands out and charms the senses. I'm extremely happy that I took a chance on it and I would recommend that others make this perfume "A part of your world!" Too.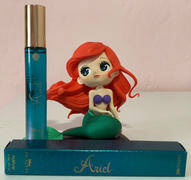 09/25/2020
Juliann S.

United States
I recommend this product
Perfect Gift for a Disney Princess
I purchased this gift for a friend who loves Disney princesses. I was hoping it would have a stronger beach vibe with a hint of floral. I felt that the fragrance was the opposite, more floral with a hint of beach vibes. However, it still smells lovely and my friend loved it! We went out in search of the full size bottle on the same day she received the gift. She couldn't get enough of the fragrance!
04/09/2021
Laura

United States
I recommend this product
Blissful beach vacation
This scent is amazing! It truly smells like I'm on a tropical beach vacation. It's relaxing, fun, and fresh. I am super happy with how long lasting this fragrance is too. The bottle itself is stunning too. Big 10/10 for me! I am hopeful that another disney collab is coming because this was so fun!
12/06/2020
Patricia W.

United States
A bit underwhelming.
I was STOKED to try this. By the scent notes I thought, "this is the scent for me." However, I think it smells like a mix between Delphine and Clara and it was so similar to those scents I was a little bummed that I purchased it. It's nice, not too strong, but not terribly original in regards to the already existing scents. I think of Define me as having very individual scent profiles and I was hoping this would be the case with this scent.
09/04/2021
Zoe

United States
I recommend this product
I love this scent too much
This is by far one of my favorite Defineme Scents! It's fresh, floral, fruity and reminds me of the beach. I'm absolutely in love