Congratulations! You are now on the waiting list, please check your inbox for our confirmation email!
DefineMe Fragrance
FRAGRANCE OIL SAMPLE KIT
Congratulations! You are now on the waiting list, please check your inbox for our confirmation email!
Can't decide or want to give them a try before you commit?! 
Try our sample kit, each kit includes all six scents with .03 oz of fragrance in adorable roller ball bottles, no awkward vials that are hard to open + leak for our customers! xx

We highly recommend to have fun + play with blending to see what you can come up with. We haven't found a bad combo yet!

NOTES
Audry... jasmine, peony, rose + sandalwood.

Clara... lilac, violet, hibiscus, lily + light musk.

Delphine... lilac, freesia, ylang ylang, coconut + rosewood.

Harper... grapefruit, bergamot, honeysuckle + amber.

Payton... orange blossom, mimosa, clove buds + musk.

Sofia Isabel... mandarin, black currant, jasmine + sugar. 
MADE WITH
Lots of love, fragrance oil, essential oil & fractionated coconut oil.

Rollerball applicator
Six 1mls | .03 fl oz
Clean Fragrance
Vegan
Cruelty-Free
Gluten-Free
Phthalate-Free
Paraben-Free
Made in the USA
Sustainability
Social Impact
You know that crushing feeling you get when you discover a brand or product you love has less-than above-board practices? Like, when you realize a fragrance you've fallen hard for actually has animal product ingredients or test on animals (yeah, that feeling!).
Part of our core mission at DefineMe Fragrance means you can rest easy knowing that you'll never (ever!) feel that way again. Our fragrances start with many questions: What's its purpose? What should it smell like? What should it be called?
But one thing that's always a given is that we never include animal products in our ingredients! Cruelty to animals...ahhh, no thank you!
If you want learn more you can check out our blog post here 
All items ordered from us can be returned for a refund within fourteen (14) days of purchase. All returns must include a copy of our invoice or packing list. Returned items must be unused. Shipping charges are non-refundable. (Exception: defective or mis-shipped merchandise will be replaced or fully refunded). We do not refund or exchange purchases made from other vendors, sale items, or BOGO offers. Read our full returns, privacy and labor policy here.
Customer Reviews
08/06/2020
Zoe S.

United States
03/10/2020
Kim .

United States
Amazing sample kit
I am so happy with this sample fragrance oil kit. I was trying to pick which one is my favorite but I love them all. They all smell so good. This kit will last a long time. You apply the smallest amount and the oil absorbs into the skin lasting all day and night.
01/13/2020
Katrina S.

United States
Lovely
I took the Define Me online quiz last fall and got Audry. I was very happy with that scent and recently finished the perfume. I was curious about the other scents, & ordered the sample kit. The packaging and presentation is lovely. I love how you can also blend the scents together. A nice surprise was also the Princess Ariel sample that came with the sample kit. I'm looking forward to trying their hair mist next. Thank you, Define Me!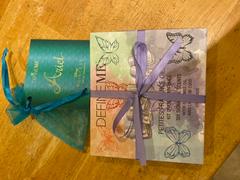 02/15/2020
Netha

Canada
Lovely Scents!
I have just recieved my order in mail today and love the little packaging. I recently found out about DefineMe and was thrilled to see that it's Cruelty-Free and vegan, as I am a vegan myself. New to this brand, I decided to purchase the fragrance oil set to determine my desired scent and loved each of them! My personal favourite is Payton- which was the result of the quiz I completed. I was surprised to see a sample of Ariel perfume, which was very nice. I will definitely be purchasing from DefineMe soon!
09/01/2020
Diane T.

United States
Loved sampling your fragrance oils!
It has been so much fun sampling and enjoying the beautiful rich fragrances in this kit! I have several favorites! Now... how to decide which one to order a full size of!